Monday, November 23, 2009
Reporters and the public are invited to attend the
2009 Astronaut Glove Challenge on Nov. 19
at the Astronaut Hall of Fame in Titusville, Fla., near
NASA's Kennedy Space Center
.
The
$400,000 prize
challenge is a nationwide competition that focuses on developing improved pressure suit gloves for astronauts to use while working in the vacuum of space. The competition is scheduled to begin at 10 a.m. EST on Nov. 19 and conclude with an award ceremony at approximately 5 p.m.
2007 Astronaut Glove Challenge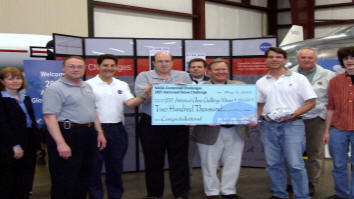 Part of
NASA's Centennial Challenges Program
, the competition will test gloves independent inventors designed and constructed. The tests will measure the gloves' dexterity and strength during operation in a glove box that simulates the vacuum of
space
. At least two competitors are expected, including Peter Homer, the winner of the competition held in 2007. This year's entrants must provide a glove that includes an outer thermal protection layer, as well as the inner pressure-containing layer. The result is a complete glove suitable for space operations.
NASA
's Centennial Challenges program will provide the prize. Volanz Aerospace Inc. of Owings, Md., manages the competition for
NASA
. Secor Strategies, LLC of Titusville, Fla., is a sponsor for the event.
Centennial Challenges is
NASA's program
of technology prizes for the citizen-inventor. Recent Centennial Challenge events included Regolith Excavation, Lunar Lander and Power Beaming Challenges, in which six different competitors won a total of $3.3 million in prizes.
For more information about
NASA's Centennial Challenges
, visit:
http://www.nasa.gov/offices/ipp/innovation_incubator/cc_home.html

For information about the
Astronaut Glove Challenge
and
Volanz Aerospace Inc
., visit:
0 comments to "Inventors to Compete for $400,000 in NASA Astronaut Glove Challenge"
Popular Posts
X-24B Precision Landings Proved That Shuttle Could Land Unpowered NASA research pilot John Manke worked through his prelaunch checklist wh...

Even though there are many advancement in technology, keeping foods fresher in space for a long period has been impossible. Research has b...

Though the sun's brightness was once thought to be constant, NASA has launched a series of satellite instruments that have helpe...

NASA technologists will get a opportunity next summer time to experience the good old days when Organization technical engineers would conn...

The mars rock touches the NASA curiosity this time it touches the more different from before Tasks.  The mars rock is looks like some odd...

Leaner, greener flying machines for the year 2025 are on the drawing boards of three industry teams under contract to the NASA Aeronautics ...

Images from NASA's Wide-field Infrared Survey Explorer (WISE) reveal an old star in the throes of a fiery outburst, spraying the cosm...

Tornado tracks from last week's powerful tornado outbreak are visible in data from NASA 's Aqua satellite and the Landsat satellite...